K and S Tree Service is located in Leonard, Michigan. We are committed to quality service and customer satisfaction. Our services are completely licensed and insured. We also offer free estimates. All you have to do is, pay the diagnostic fee.
Tree services
Tree removal
Tree trimming
Shrub removal
Stump grinding
Brush chipping
Shrub trimming
Trunk injections
Land clearing
Ornamental pruning
Cabling and bracing
Stump grinding
Landscape maintenance
Root fertilization and aeration
24-hour emergency storm damage
Shrub maintenance programs
Insect and disease control
Tree Services
K and S Tree Serviceoffer excellent tree services for people who are looking for reliable and experienced professionals. We can help you with a wide range of tree services.
Tree Removal
Tree removal is very tiring work and involves a lot of professional workforces. Our team at K and S Tree Service is an expert in tree removal and cleaning services
Tree Trimming
Sometimes you might not want to cut off the entire tree but trim it to a point where it is not hazardous anymore. Call us so that we can handle tree trimming for you.
Shrub Removal
Shrub removal includes the removal of shrubs and dead roots. In short, we help in the removal of shrubs from the core. This way, turfing becomes easier.
Stump Grinding
A stump grinder chews away at the stump wood that's left after a tree has been cut. All stump grinders use a powerful, rotating blade that rips into the wood as it turns. The blade's teeth cut the stump wood into small pieces to not leave any dangerous stumps.
Insect And Disease Control
If you are worried about the increase of insects and other pests, we are just a call away. You can always get in touch with us. We can keep a check on those unwelcome insects and pests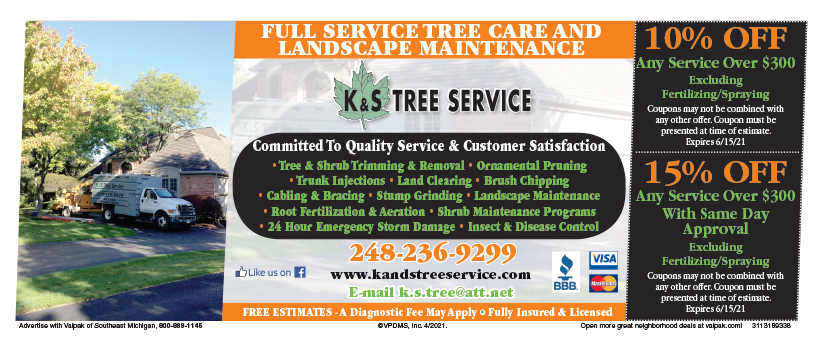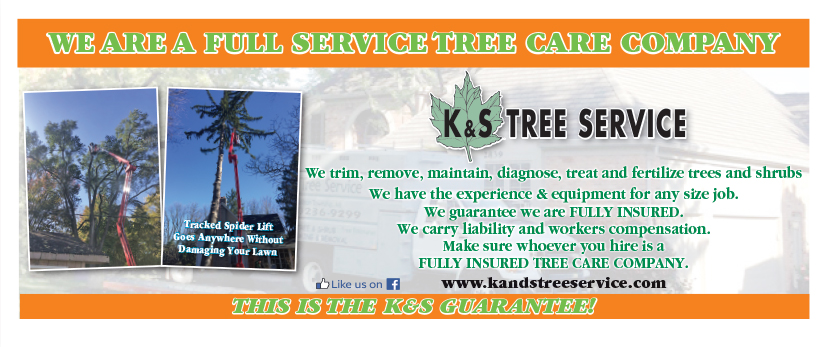 10% OFF on any service over $300 excluding fertilizing/spraying coupons may not be combined with any other offer. Coupon must be presented at the time of estimate. The offer expires on 6/15/21.
15% OFF on any service over $300 with same-day approval excluding fertilizing/spraying.